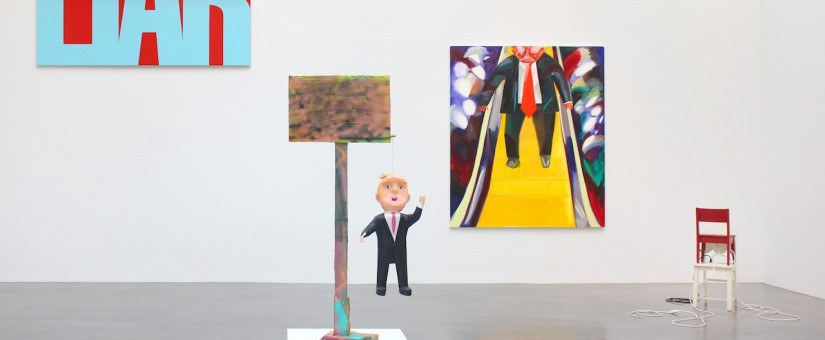 Posted by Tanya Traykovski
On 15 janvier 2017
The fine art world is actively responding to the Donald Trump election with works that criticize the president-elect and his platform.
In light of the surprising election results, Petzel Gallery has mounted a two-part exhibition titled We Need to Talk, that consists of artworks and a participatory space. A standout is Dana Schutz's Trump Descends an Escalator. In this portrait of the president-elect, his angry, red/orange face is cropped mid-forehead so as to bring attention to his emotional and decidedly non-cerebral approach to politics. Yael Bartana's neon What if Women Ruled the World evokes the American misogynism that many believe led to Hillary Clinton's defeat. In Troy Brauntuch's Untitled, painted before the election, a grim-faced Clinton is depicted presciently in the artist's funereal signature black gray palette. Glenn Ligon's neon Another Country cites the title of the 1962 James Baldwin novel that explores then-taboo topics of interracial and homosexual relationships. But the work also poignantly speaks to the wish of many Americans – Trump supporters and foes alike – for a better America.
At Petzel, a portion of the proceeds from the sale of all works will go towards charities of the artist's and collector's choices. Petzel is also inviting audience participation through writing, film submissions and discussions. Saturdays in this space are dedicated to day-long symposiums on topics including Civil Liberties (January 21st), Immigration (January 28th), and The Environment (February 4th).
Less established artists are taking action against the Trump Administrations planned attacks on women's rights. An exhibition titled NASTY WOMEN organized by artist Roxanna Jackson and Jessamyn Fiore, co-director of the Estate of Gordon Matta-Clark and curator of Dubai's soon-to-open Jean-Paul Najar Foundation, had shown 1,000 works by nearly 700 international female-identifying artists on January 12th-15th at the Knockdown Center in Maspeth, Queens. All works were for sale at $100 or less, and the Nasty Woman show finally earned $35,000 for Planned Parenthood on its opening night. 
Approaching Trump's xenophobia with a light hand, the conceptual artist Luis Camnitzer has started a Change.org petition in which he asks the president-elect to commission Christo to build his Mexican border fence. A wonderful insider joke, it refers to two of the artist's former projects, Running Fence, 1976 a 24.5-mile-long project in California and The Gates, 2005 in Central Park in New York, that latter of which were in the orange Camnitzer is proposing.
Artists began to act immediately following the election; in late November artists marched in front of The Puck Building where Ivanka Trump has an apartment. Cecily Brown, Rob Pruitt, Ryan McNamara, Jonah Freeman, Dan Colen, Marilyn Minter and Nate Lowman – the latter of whom Ivanka collects – protested against her father's anti-environmental, racist, misogynist and homophobic Cabinet appointments. Artists including Cindy Sherman and Richard Serra – along with prominent curators and critics – have also called for a general art strike titled #J20 on Inauguration Day. An act of non-compliance « toward an anti-fascist cultural front, » the artists advocate for the closing of museums, galleries, theaters, concert halls, studios, nonprofits and art schools stating « (i)t is not a strike against art, theater or any other cultural form. It is an invitation to motivate these activities anew, to reimagine these spaces as places where resistant forms of thinking, seeing, feeling and acting can be produced."[i] With their high levels of access to the media and people in positions of power, artists view this as a first step in wielding influence. One museum director – Adam Weinberg of the Whitney – has announced to the press that the Whitney will be open Inauguration Day, but will be free of charge; this is perhaps a more proactive and inclusive approach than striking.
These recent developments come after more troubling actions taken in the immediate aftermath of the election by one Miami Fair, Red Dot against David Gleeson and Mary Mihelic of the leftist collective T. Rutt. The artists were scheduled to exhibit at the fair in early December, but their work – consisting of a reclaimed a Trump campaign bus which they had driven to numerous Trump rallies prior to November 8th and American flags embroidered with the president-elect's infamous comments such as « grab 'em by the p*ssy » – was deemed by the fair owner to be disrespectful in light of Trump's win. The artistic duo expressed dismay about censorship, but clearly the fair prioritized profits over artistic expression. In fact, emboldened by Trump's victory (and excited by their future potential tax cuts,) formerly closeted Trump-supporting collectors were extolling him during Miami art week, much to the horror of many of the art world figures in attendance.
Trump's election is decidedly a wake-up call for the need for new forms of cultural activism; celebrities were deeply committed to Hillary Clinton's campaign and absent from his, but he won anyway. Yet if underground art gains more widespread exposure, and mainstream artists make more protest art – and, like the aforementioned NASTY WOMEN and Petzel artists, funnel proceeds from their art into progressive causes – change can happen.
It is undeniable that – beyond the visual arts – public figures such as actors who have uncensored live access to large public audiences have the greatest ability to promote an agenda of resistance. Meryl Streep's remarkable Trump debunk – live on national television at the Golden Globes on January 8th, 2017 – is an exemplary counteraction to Trump's war on American democracy. Expressing outrage at his real-life « performance » of mocking of a disabled reporter on national television, she stated that « (the) instinct to humiliate…when modelled by someone powerful…gives permission for other people to do the same thing. » One has to hope that her message resonates with some American voters – among them minorities and Millennials who sat this election out – and that they will turnout for midterm Senate elections in two years. Streep's powerful parting advice must be heeded – for journalists to « safeguard the truth, » and for artists to « take (their) broken heart(s), and make it into art. »
Text by Tanya Traykovski
[i] Lien vers la pétition pour la grève des institutions culturelles américaines le 20 janvier